May 5, 2019
Siblings, 
First, thank you to all who were able to attend our spring general membership meeting. I think it went well. Unfortunately, we said farewell to Brother Myron Stevens. He is preparing to start his well-deserved retirement at the end of the month. We will miss him. 
Next, I want to thank our members that stepped up to run for one of the board positions that were up this year. Please help me congratulate those who were elected: 
Jennifer Erwin - 1st Vice President/Lead Chief of Chief Stewards
Lisha Poulakis - Treasurer
Margo Rolczynski - Secretary
Kevin Anderson - E Board
Denise Bickford - E Board
Keven Clark - E Board
Melissa Degideo - E Board
Julianna Lindsey - E Board
Jessica Thompson - E Board
Andrew Ziebell - E Board
Joanne Bokinskie - Trustee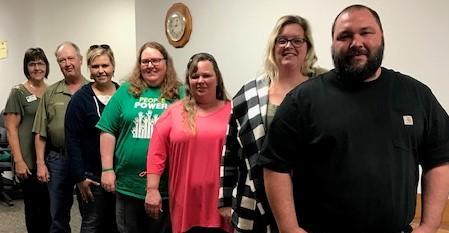 Their contact information will be located on the Local 4001 website. 
Besides the election, we discussed that information about the current contract negotiations is located on MemberLink. If you have not yet signed up and need assistance, please call your chief steward or the Council 5 office. One reminder to this is, this information is ONLY for members. Non-members would need to join and become full members to log-in to MemberLink and have this information. Please don't print the information or share with non-members.
We also talked about the importance of moving to direct dues. This is where your dues are taken directly from your checking or saving account instead of coming out of your check. One of the advantages of this is the employer does not know who is or is not a member and the employer does not touch our dues. Again, your stewards, chief stewards or Council 5 can help with this. 
In Solidarity,
Joel Hoffman, President
AFSCME Local 4001